Summer 2013 costumes at Mega Fancy Dress
The clocks going forward symbolises the end of a cold Winter and with the lovely weather (hopefully) around the corner, we look forward to sharing our range of fantastic fancy dress costumes with you once again! We've already had a busy turn of the year celebrating such events as Valentine's Day and the increasingly popular World Book Day, but we're not stopping there. With the season of sunshine ahead of us, we're looking to start as we mean to go on. If you're going for a celebratory St George's theme, browse under our Men's Medieval Costumes for a few patriotic options as well as some of our specific St Georges's range too! Whilst here at Mega Fancy Dress, we're predicting that the 1980s will be very popular this summer, so why not browse through our vast array of both Ladies and Men's 80s fancy dress costumes and join in the fun. We're continuing to provide excellent personal service, whilst working to an optional 24 hour delivery on our items, and liaising with the best suppliers to bring you top quality fancy dress costumes at affordable prices. Our range is ever-growing too, making us even more confident that you will find exactly what you're looking for whilst browsing through our extensive selection!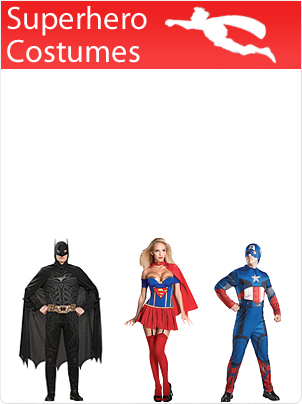 Superhero Costumes
Help us celebrate 2013, the year of superheroes with our fantastic range of Superhero Fancy Dress Costumes. This year see's the release of many films such as the likes of Iron Man 3 and Superman: Man of Steel and what better way to celebrate these hugely anticipated films than by dressing up! So grab your favourite Superhero costume and get ready to save the world of fancy dress parties in style!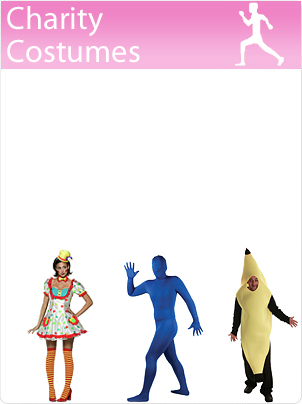 Charity Fancy Dress Costumes
Look the part at your next Marathon Fun Run or Cancer charity event such as Wig Wednesday and the Pink Ribbon Walk with our spectacular range of Fun Fancy Dress Costumes. We have a huge selection of costumes to choose from with some of your favourite characters ranging from a Sexy Oompa Loompa to a Giant Chilli Pepper! So get ready to wear something funny for money at your next Charity fundraiser by picking up one of our fantastic fancy dress costumes.